DREAMY AND RESTFUL SLEEP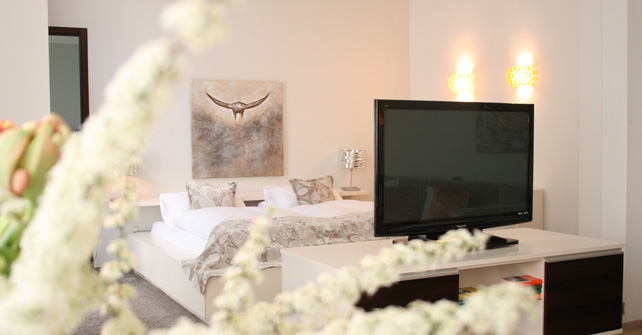 Live in a unique ambiance, filled with loving details. Our rooms and suites capture your attention with their timeless, classic design and high quality furnishings. They provide a luxurious feeling of space, confidently furnished with all medial standards. Some of our rooms in Hotel Gräfrather Hof have comfortable balconies overlooking the picturesque courtyard. The four luxuriously furnished suites leave nothing to be desired. From 25 sqm to 63 sqm, you have the choice between a free-standing bathtub or a personal sauna. The ambiance is put together in harmonious color-coordinated fashion and meets the highest requirements.
Apart from our main house, we also provide overnight accommodation in one of our guest houses, directly bordering the main facility
Want to be a bit more relaxed but without sacrificing the comfort of a four-star service?
Hotel "Zur Post"
Passing through and in need of a room? In our historical "Hotel zur Post" you are well taken care of. Directly vis-à-vis from Gräfrather Hof!
"Die Post" is a unique building in the region—a so-called "floating beam house."
The building has been renovated in 2014&2015, expanded to Twenty two rooms and adjusted to the 4**** superior standard of the Gräfrather Hof.
Guest house "Alte Schule"
Across from the main house, and bordering on the hotel parking lot, you will find the modernly equipped guest house "Alte Schule".
The "Alte Schule" with its thirteen rooms, was converted and renovated in 2011 and is situated vis-à-vis from Gräfrather Hof.
Guest house "Gräfrather Markt"
The community center guest house "Am Markt" is said to date back to the 18th century and originally consisted of two houses standing next to each other. In 1829, the two houses were connected with a single roof, which explains the asymmetric facade design.
The guest house, which is protected as a historical monument, was opened in 2012 and is situated directly next to historical fountains. The standard of the nine rooms corresponds to a modern 4**** business travel hotel.
Junior guests—up to six years of age—sleep for free in their parents' bed and are invited to our breakfast. We charge a € 25 additional fee for an additional bed in the parents' room. This price includes the breakfast buffet and can be booked for children up to twelve years of age.
If you wish, we will provide you with a baby cot for free.