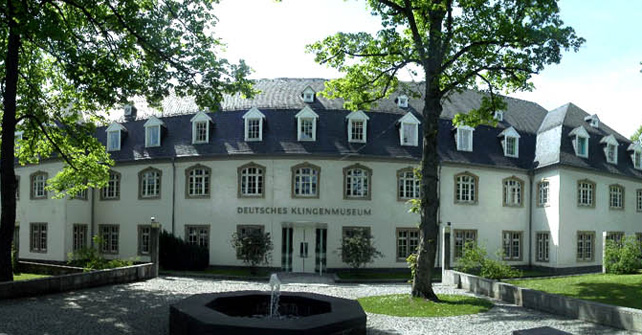 SOLINGEN
ART
MUSEUM
What was pre­vious­ly the Grä­f­rath city hall is now home to the art muse­um and pre­ser­ves the art collec­tion of Solin­gen city; the­re are around 10.000 art works, most­ly from the regi­on, of which more than 8.000 are gra­phi­cal she­ets. A fur­t­her strength of the Muse­um lies in its pre­sen­ta­ti­on of con­tem­pora­ry art.
Wup­per­ta­ler Stra­ße 160
42653 Solin­gen Gräfrath
Approx. 2 min. from the hotel by foot.
www.kunstmuseum-solingen.de/
KLINGENMUSEUM
The Ger­man Kni­fe Muse­um is home to valu­able collec­tions of sil­ver­wa­re, cut­le­ry, and edged wea­pons from various eras and cul­tures as well as the Grä­f­rath church trea­su­ry, a relic of the monastic gol­den age. Exhi­bi­ti­ons round off this expe­ri­ence nicely.
Klos­ter­hof 4
42653 Solingen
9 min. by foot from the Hotel.
www.klingenmuseum.de