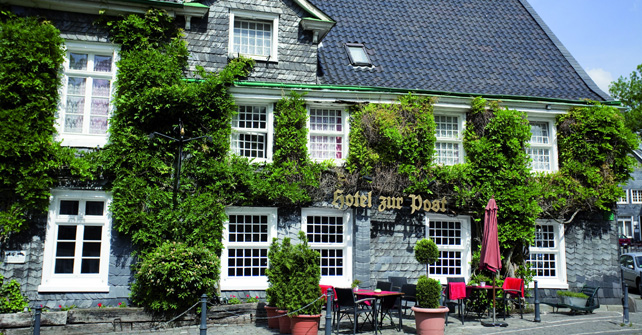 Gräfrath
Idyll in the Ber­gi­sches Land
Grä­f­rath is the most nort­hern part of Solin­gen and the wes­tern gate to the Ber­gi­sches Land in the tri­ang­le made up by the cities Solingen-Wuppertal-Düsseldorf.
Alre­ady in 1135, ​"Vil­la Gre­vero­de" was men­tio­ned in a docu­ment. As one of the few his­to­ri­cal town cen­ters in Nort­hern Rhi­ne West­pha­lia, Grä­f­rath pro­vi­des resi­dents and visi­tors with a multi­tu­de of attractions:
The ear­ly modern ensem­ble of mar­ket­pla­ces, which have hard­ly chan­ged sin­ce the 18th cen­tu­ry, with their foun­ta­ins and nar­row stre­ets are cha­rac­te­ri­zed by sla­te-cove­r­ed Ber­gisch tim­be­red hou­ses. A seven­ty-two-level stair­ca­se from the city cen­ter to Klos­ter­berg and what was pre­vious­ly an abbey rep­res­ents the star­ting point of this medi­eval settlement.
Loved both as a geta­way as well as a place to live, Grä­f­rath is home to a varie­ty of gas­tro­no­mi­c­al delights with its cafés, bis­tros, restau­rants, hotels, and a youth hos­tel, all wai­ting for a visit from you. This also app­lies to the multi­tu­de of busi­nes­ses, which can be found espe­ci­al­ly at the mar­ket and on ​"In der Freiheit."
The local his­to­ri­an Otto Schnell wro­te in 1909, ​"Today Grä­f­rath can be descri­bed as a real Ber­gisch small town idyll." The image he por­trays is fun­da­ment­al­ly accu­ra­te to this day. Today the his­to­ri­cal mar­ket place—surrounded by our hotel Grä­f­ra­ther Hof, the Hotel Zur Post ​"vis à vis" and our bre­we­ry Grä­f­ra­ther Klosterbräu—serves as a com­mu­nal mee­ting place for lively souls.
Apart from the his­to­ri­cal monu­ments, Grä­f­rath also has an extra­or­di­na­ry cul­tu­ral offering.
Among tho­se his­to­ri­cal monastic buil­dings you will find the Ger­man Kni­fe Museum.
In what was once the Grä­f­rath city hall, the Solin­gen Art Muse­um dis­plays works espe­ci­al­ly by Solin­ger artists such as Georg Meis­ter­mann as well as other signi­fi­cant collec­tions. Art enthu­si­asts can take a look insi­de the gal­le­ries around the square.
From the town cen­ter, the so-cal­led ​"Klin­gen­pfad" road leads through the Grä­f­rath heath, a park-wood­land with fami­ly-fri­end­ly zoo ani­mals that boasts 200 ani­mal varie­ties. From the light­house with a glass dome, a fur­t­her fasci­na­ting land­mark of Grä­f­rath, a desi­gna­ted wal­king rou­te pro­vi­des access to the beau­ti­ful green land­s­cape that is cha­rac­te­ris­tic of this envi­ron­ment. And so even the outer are­as of Grä­f­rath have some­thing to offer.
The leisu­re and cul­tu­re offe­ring around Gräfrath: