HOTEL
GRÄFRATHER
HOF
AND
GUEST
HOUSES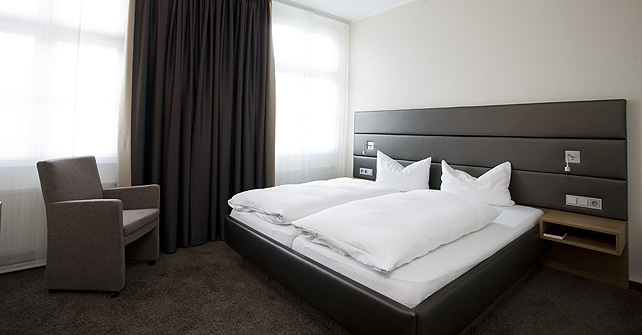 48

rooms in the main house
show­er and/or bathtub
toi­let
hair dry­er
make-up mir­ror
mini bar
tele­pho­ne in room

TV

, radio
free

WLAN

24

hours reception
on-site par­king lot
Modern­ly equip­ped, stylish, his­to­ri­cal buil­ding with forty-eight rooms and four luxu­rious sui­tes. With its loca­ti­on in the his­to­ri­cal city cen­ter, the hotel is cen­tral­ly loca­ted but still very quiet. Ide­al for visi­tors of tra­de shows from Colo­gne or Düs­sel­dorf. Par­king spaces are suf­fi­ci­ent­ly available.
Pre­vious­ly known as the ​"Ber­gi­sche Jewel Box."
Hotel ​"Zur Post" is a uni­que buil­ding in the region—a so-cal­led ​"floa­ting beam house."
The buil­ding has been reno­va­ted in 2014 & 2015, expan­ded to twen­ty-two rooms and adjus­ted to the 4**** S stan­dard of the Grä­f­ra­ther Hof.
This guest hou­se that is pro­tec­ted as a his­to­ri­cal monu­ment was ope­ned in May 2012 and is situa­ted direct­ly next to his­to­ri­cal foun­ta­ins. The stan­dard of the nine rooms also cor­re­sponds to a modern 4**** busi­ness tra­vel hotel.
with its thir­te­en rooms, was rene­wed and reno­va­ted in the year 2011 and is situa­ted vis-à-vis from Grä­f­ra­ther Hof.
The four luxu­rious­ly equip­ped sui­tes lea­ve not­hing to be desi­red. From 27 sqm to 63 sqm you have the choice bet­ween free-stan­ding bath­tubs or your own sauna.
The ambi­an­ce has been coor­di­na­ted with har­mo­nious colors and com­plies with the hig­hest demands.